Editor Choice
Clotide's Sewing Savvy (May, 2005)


That's what you'll say when you own the Machine on wheels luggage by Tutto. It's the perfect companion for transporting your sewing machine to and from sewing retreats and classes.

This luggage is lightweight, available in some wonderful bright colors as well as basic and has numerous features that make it easy to take your machine with you. It will house your sewing tools in numerous roomy pockets inside and out, and the comfortable, adjustable handle and easy-wheeling features makes it possible to turn on a dime. The streamlined luggage is easier to roll down the airplane aisle than other wheeled luggage and the small and medium sizes fit in the overhead compartment. Even better than that, the luggage maneuvers back and forth and in a complete circle. No more gyrations needed to turn your wheels around in the elevator or other tight spots! Inner straps secure the machine inside and the sturdy frame offers added protection for the contents. It's even strong enough to strap additional luggage on top.

When not in use, this versatile luggage collapses to 3 inches thick for storage. The Arthritis Foundation has given Tutto luggage thumbs up saying that it "provides significant improvement in ease of use over other types of luggage. " That's because the wheel-base lessens strain on the back and arms and the pull bar makes it easier to maneuver the lightweight luggage.

Go to www. tutto.com and click on "sewing case" to see this fabulous luggage or ask for it at your favorite sewing machine dealership. Editor's Note: I've been traveling on business for over 30 years and this is the best wheelie carryon I've ever tried!
Quilter's Newsletter Magazine (Oct, 2005)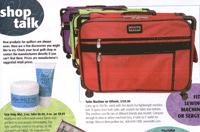 Tutto Machine On Wheels, $155.00 ( Medium Size)
Carry up to 150 lbs. easily with this sturdy but lightweight machine tote. It opens from both sides with pocket for fabric and notions. This medium size fits lots of different brands and models. Compact enough to stow in airline overhead bins, it folds to 3' width for storage. Mascot Metropolitan Inc., 800-949-1288, www.tutto.com.
Today's creative Homearts Magazine

Congratulations! The Tutto Crafts-on-Wheels has received the Creative Home Arts Club Member Tested & Recommended Seal of Approval.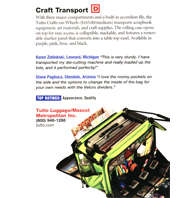 Product Test Report Synopsis
2008 Tutto Crafts-on-Wheels
Test Criteria
Average Score:
Design
9.3
9.55
Performance
9.3

9.55

Appearance
9.0
9.31
Ease of use
9.3
9.31
Clarity of instructions
7.5
9.07
Quality
9.3
9.07
Innovative feature
9.3
9.31
Uniqueness
8.5
9.07
Rated against similar products
9
7.95
Colors included
9.3
9.31
Overall Rating
8.8
9.31
Overall Average
9
9.16